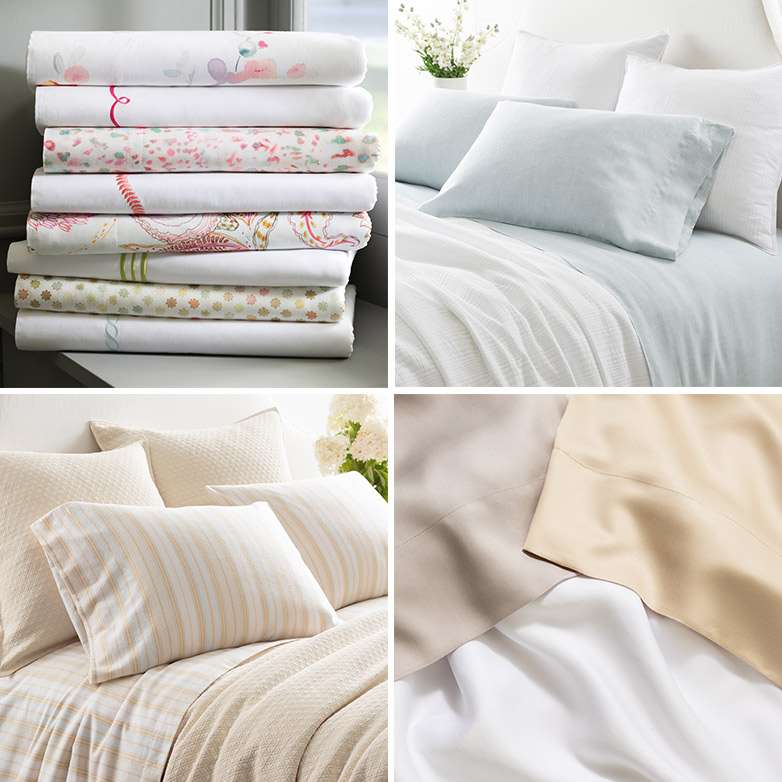 Fabric basics: cotton, linen and beyond
It's easy to cotton to this fabric—cotton is durable, breathable and one of the easiest fabrics to care for. Pick the cotton varieties you like best:

• Egyptian cotton: Renowned for their quality and softness, Egyptian cotton sheets are crafted from extra-long fibers grown in the warm climates of North Africa. They make some of the softest and smoothest sheets there are. You'll find these fibers woven in silky sateen or matte percale patterns. Just pick the texture you prefer.

• Cotton flannel: Think of how ahh-some it feels to wrap yourself in a flannel shirt—soft, warm, cozy. Flannel sheets are made by brushing and shearing the cotton over and over, so that the fine hairs of the fabric rise and create a soft, fuzzy, insulating layer. Switch to these sheets in cold-weather months and get an instant cuddle.


Linen sheets turn a cool shoulder to warm weather. Linen naturally wicks away body heat to keep you cool and comfortable while you sleep. Linen's natural finish can lend your sheets a cool, textured feel that gets softer and more lived-in with every wash. Count on linen to be comfortable bedding that will stand the test of time.
Tencel and modal sheets: take a breather

Today's new manufacturing processes have made more sustainable high-end sheet production possible. Both Tencel and modal sheets are made from reconstituted wood pulp fibers that are an absolute dream. They're soft, wrinkle-resistant, quick-drying and highly durable. And because the fibers breathe so well, they're great at cooling down hot sleepers.
Cheat sheet: what to look for when looking for sheets
• Nice touch. How does the fabric feel in your hand? In the luxury bedding industry, hand feel is judged by the fabric's texture, drape and coolness or warmth. You may not be able to see the difference, but you can definitely feel it. Touch different types of sheets to find the material that feels best to you.

• Breathe easy. Sheets derived from natural fibers tend to be the most breathable, and some sheets are specifically designed to promote either insulation or air flow. Egyptian cotton cools in summer and insulates in winter. Flannel is all about warmth, while Tencel and modal offer extra breathability.

• Weather warm or cold. Consider your climate and the season. Change sheet weights much as you would blankets. Lightweight fabrics like Tencel and linen are perfect for warmer months, while fine Egyptian cotton or flannel sheets can help keep you cozy in the cold.
Know when to count 'em (the threads)
While it's usually true that the higher the thread count, the softer the sheets, we've learned that some companies will inflate thread count numbers. Trust your hand—you can usually tell the difference in quality right away.
Setting your style with sheets
Now it's time to find a style that speaks to you. Explore our different styles of bed sheets by material and design to get inspired. Then have fun pulling together a look—and feel—you love.