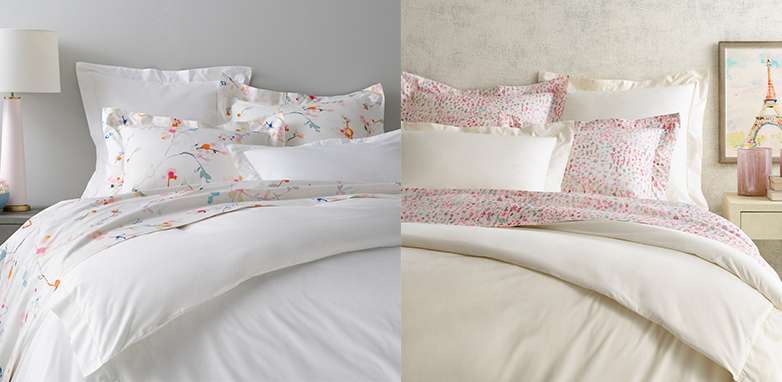 Ivory or White: Which Will Delight?
Why light is often right
Neutral bedding, like whites and ivories, knows how to complement almost any design style or décor. It's also a natural at providing an elegant, timeless backdrop for accent colors and prints. And neutral has a knack for looking fresh in every season.
Will it be white or ivory bedding?
Before adding sheets and comforters to your shopping cart, consider a few design factors to help you narrow your choice between white and ivory bedding:

1. Natural light.
If you have lots of windows to welcome in the sun, then you probably get plenty of natural light and would be fine going with either color bedding. If there's a shortage of natural light, white bedding will make the room bright.

2. Wall color.
Most colors complement both white and ivory, but some hues do it better than others. The secret is to contrast or complement, but not clash. For example, if you have yellow walls, you'll want to stay away from ivory bedding—the colors are too similar and could clash. White, on the other hand, would provide a pleasing contrast.

3. Style of furniture and décor.
While the style of furniture throughout your bedroom doesn't have to dictate the color of your bedding, it may help you decide which is more suitable. Traditional furniture and décor pair well with the classic look of ivory, while minimalist and modern bedroom designs tends to look better with pure white bedding.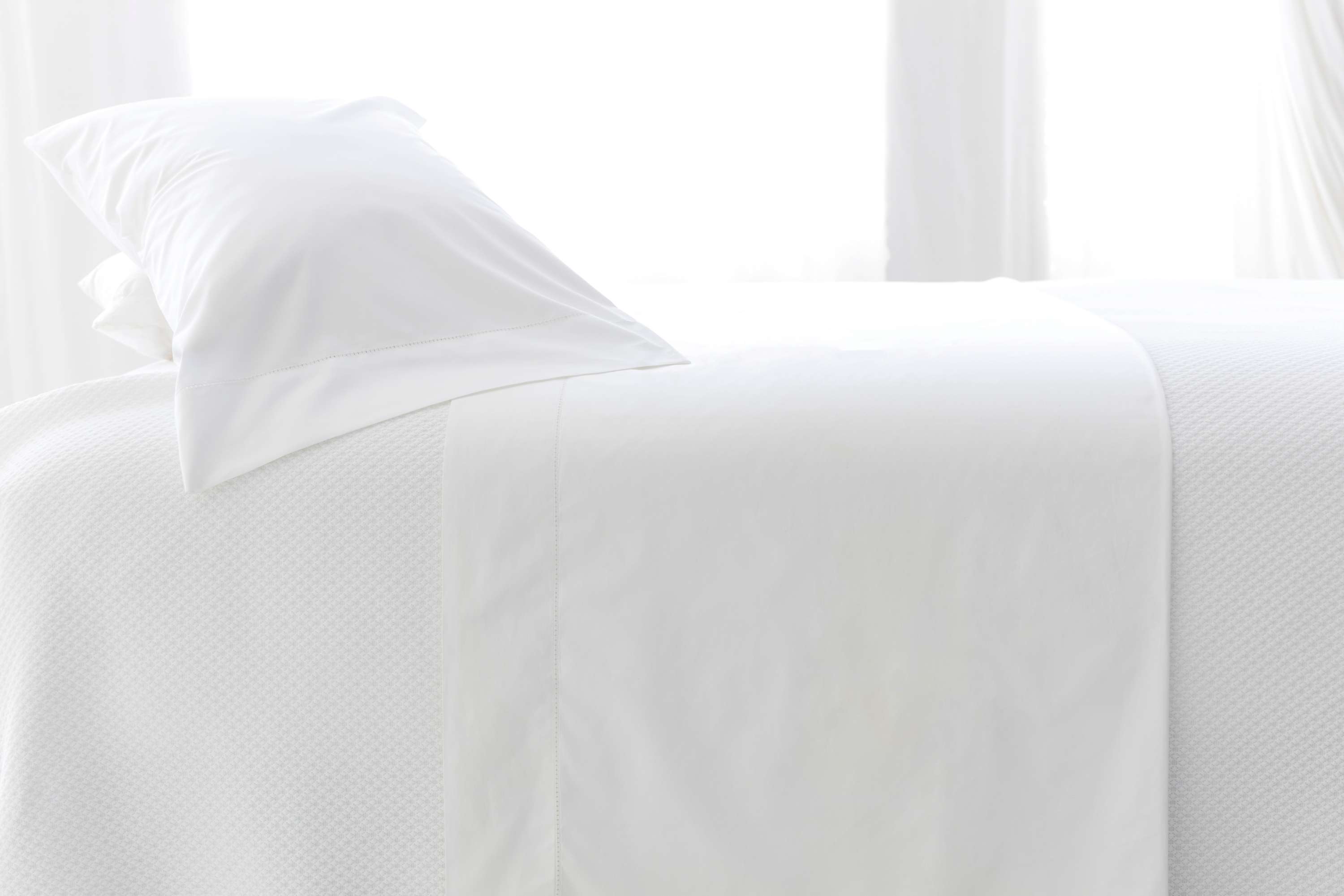 Pros
• Brighten the room
• Provide a clean, crisp aesthetic
• Make the room look more open, less cluttered
Cons
• Can look sterile and cold
• Need to be cleaned often to maintain a fresh appearance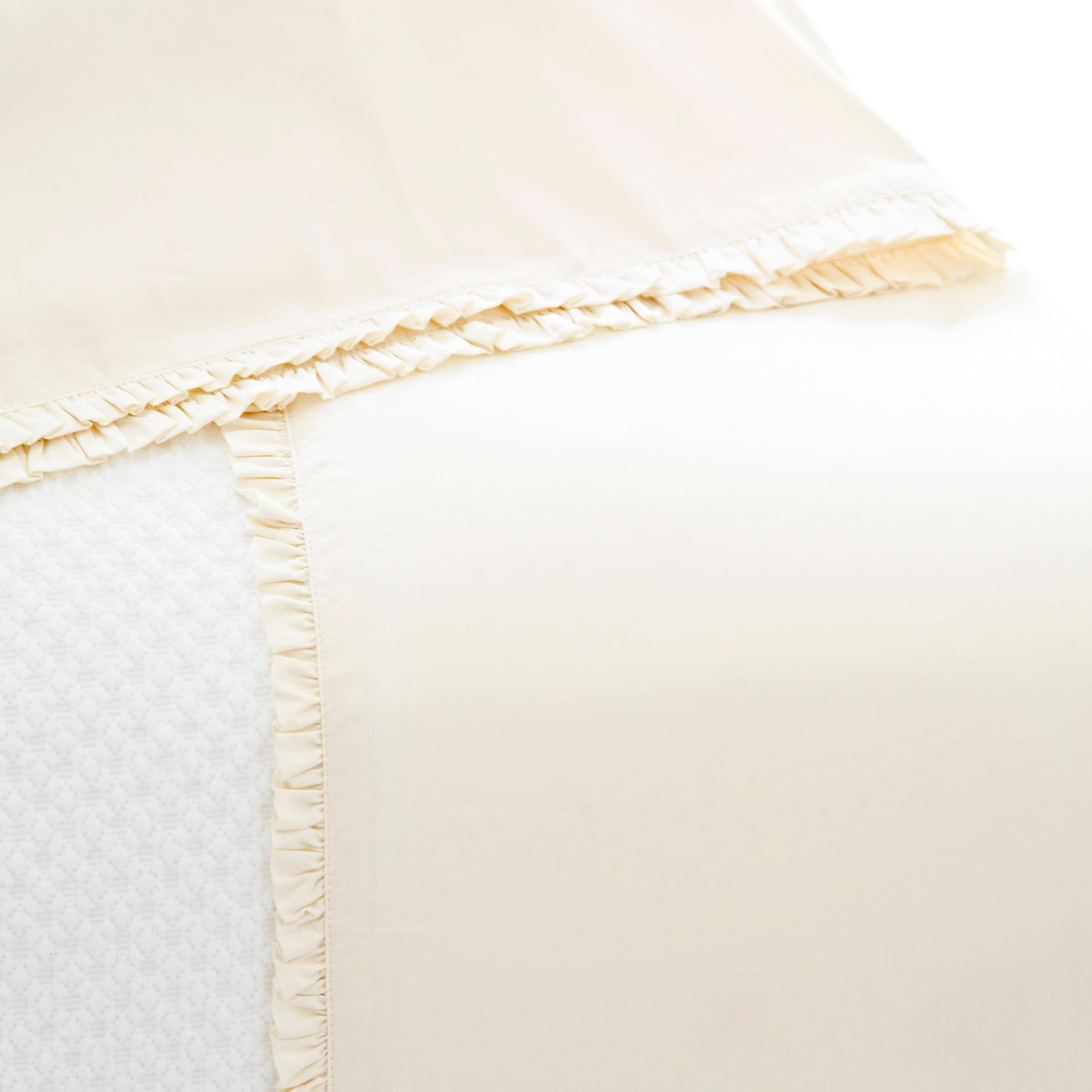 Pros
• Create a warm, romantic ambiance
• Pair well with vintage décor and antique furnishings
• Soften the look of a space
Cons
• Can look yellowish or faded
• May appear outdated in modern rooms

When you take into account the current design and color palette of your bedroom and weigh the pros and cons of both white and ivory bedding, you'll better understand which shade fits your room best.

Still having trouble deciding? Take our quiz below to help match your personality and taste to the shade that's right for you—dreamy cream or snowy white.
Quiz: White or ivory: Which bedding color suits you best?
Select your response to each question below, then tally your answers for your results.

Do you generally gravitate toward warmer or cooler color tones?
1. Warm colors
2. Cool colors

Would your dream bedroom feature traditional and vintage style or sleek, modern design?
1. Traditional and vintage
2. Sleek and modern

Do you prefer the look of a charming bed and breakfast or high-end hotel room?
1. Charming bed and breakfast
2. High-end hotel

Do you prefer the colors in your bedroom to softly complement each other or provide a sharp contrast?
1. Soft and complementary
2. Sharp and contrasting

Now, count how many times you chose answers next to the number 1 and how many times you chose answer number 2.
• If you have more 1's than 2's, ivory bedding will likely suit your style sensibilities better than white.
• If you have more 2's than 1's, then fresh white linens are your best bet.
• If you have an equal number of 1's and 2's, then either white or ivory will work for you – the choice is yours!